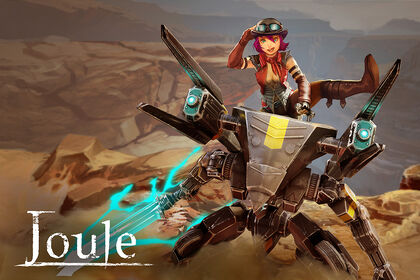 Attack Type: Melee


Position: Jungle/Lane
Role: Warrior
| | | | |
| --- | --- | --- | --- |
| Hit Points (HP) | 770 (+85) | HP Regen | 4.27 (+0.47) |
| Energy Points (EP) | 390 (+15) | EP Regen | 3.25 (+0.13) |
| Weapon Damage | 66 (+7.5) | Attack Speed | 1 (+0.015) |
| Armor | 20 (+5.3) | Shield | 22 (+5.3) |
| Attack Range | 2.4 | Move Speed | 3.25 |

Joule is an incredibly flexible hero who can adapt to your preferred position and playstyle. She's viable in Lane or Jungle. Despite her natural short range, she can be used as a mid-range poke-and-harass hero. She can look to isolate vulnerable targets—or jump feet-first into teamfights and scramble the wits (and health bars) of opponents.
.

Heavy Plating
Edit
Slot: Heroic Perk

Joule has bonus armor protecting her from basic attacks that hit her on the front and sides. Bonus armor starts at 22 at level 1 and ranks up to 90 at level 12.

Rocket Leap
Edit
Slot: A

Joule leaps to a target location. Enemies caught underneath Joule take full damage and are stunned, while enemies near the impact are knocked away, slowed and take 33% damage.

Thunder Strike
Edit
Slot: B

Send a bolt of energy directly in front of Joule. When this strikes an enemy hero or creature, the next Thunder Strike within 7 seconds will deal bonus damage and cost extra energy. This stacks up to 6 times and is lost when stunned or if you miss and strike nothing. When maxed, this ability can crit weapon damage.

Big Red Button
Edit
Slot: C

Joule fires a massive beam of energy in a target direction that deals damage over 3 ticks to all targets along its path. The force of this beam pushes Joule backward during channeling.
Attack Type: Melee


Position: Jungle/Lane
Role: Warrior
| | | | |
| --- | --- | --- | --- |
| Hit Points (HP) | 770 (+85) | HP Regen | 4.27 (+0.47) |
| Energy Points (EP) | 390 (+15) | EP Regen | 3.25 (+0.13) |
| Weapon Damage | 66 (+7.5) | Attack Speed | 1 (+0.015) |
| Armor | 20 (+5.3) | Shield | 22 (+5.3) |
| Attack Range | 2.4 | Move Speed | 3.25 |
Ad blocker interference detected!
Wikia is a free-to-use site that makes money from advertising. We have a modified experience for viewers using ad blockers

Wikia is not accessible if you've made further modifications. Remove the custom ad blocker rule(s) and the page will load as expected.